ערכת שבבים X570
תושבת AM4
תיאור
ערכת שבבים X570
תושבת AM4
GET READY FOR AMD RYZEN™ 3000-SERIES
GIGABYTE X570 motherboards based on the AMD X570 Chipset provide full support for 3rd Gen AMD Ryzen™ Processors. The all-new design is a testament to GIGABYTE's dedication to design quality. GIGABYTE X570 motherboards offer a rich list of features such as support for PCIe 4.0 interfaces on select boards, refined audio,and high speed of Ethernet , to fulfill users' performance, audio, and data transfer needs. The new, advanced power and thermal design enables users to unleash the performance on AMD Ryzen™ 3000-series Processors, making the GIGABYTE X570 motherboards perfect for users looking to build the best AMD platform gaming system.
AMD StoreMI Technology
GIGABYTE X570 motherboards maximize your PC's potential with AMD StoreMI technology. StoreMI accelerates traditional storage devices to reduce boot times and enhance the overall user experience. This easy-to-use utility combines the speed of SSDs with the high capacity of HDDs into a single drive, enhances the read/write speeds of the device to match that of SSDs, bolsters data performance for incredible value, and transforms the everyday PC to a performance driven system.
The benefits of AMD StoreMI:
• Making the PC experience fast, smooth and easy
• Optimizing computer responsiveness from system boot to application launch
• Offering SSD performance with HDD capacity at an affordable cost
• Quickly accessing key files by automatically learning users' computing behaviors
Detail information please refer AMD official website: https://www.amd.com/en/technologies/store-mi
PERFORMANCE
10*+2 Phases Digital VRM Design with Lower RDS(on) MOSFET
Optimized for AMD 3000 series CPU
GIGABYTE X570 motherboards use a 10*+2 phase PWM + Lower RDS(on) MOSFETs design to support the latest AMD Ryzen™ 3000-series CPUs by offering incredible precision in delivering power to the motherboard's most power- hungry and energy-sensitive components as well as delivering enhanced system performance and ultimate hardware scalability.
* Doubled from 5 phases with current balancing.
Benefits of Lower RDS(on) MOSFETs
‧ Optimized gate charge to minimize switching losses.
‧ Lower temperature, smaller size, better thermal characteristics.
Advanced Thermal Design
Thick Thermal Pad
Smart Chipset Fan Heatsink
Smart Fan
Provides 3 different operating modes to minimize noise and extend the fan's longevity. Silent, Balanced and Performance modes, choose the mode that suits you the best in any situation.
High Durability
X570 motherboards adopt a high quality ball bearing fan which guarantees 60,000* working hours.
* MTBF, A standard measurement that continuously operates under certain criteria with 90 % of confidence level.
Pre-installed I/O Shield Armor
Durable design and easy installation
With an integrated base plate, GIGABYTE Motherboards give users a strong foundation to build their Gaming PCs.
With an integrated I/O shield, building a GIGABYTE Ultra Durable PC is even easier.
Full PCIe 4.0 Design
GIGABYTE X570 motherboards push the envelope once again by featuring Full PCIe 4.0 Design, including PCIe 4.0 slots, PCIe 4.0 M.2 connectors and delivering highly optimized performance and flexibility demanded for power users and extreme gaming enthusiasts.
PCIe 4.0 Hardware
PCIe 4.0 M.2 Connectors
XMP 4000+
CONNECTIVITY
Next Generation Connectivity
A high-end product needs to be future-proof so your system stays up-to-date with the latest technology. GIGABYTE motherboards provide all next generation network, storage to keep you up to speed.
GIGABYTE Gaming LAN
HDMI 2.0
COOLING
Smart Fan 5
With Smart Fan 5 users can ensure that their gaming PC can maintain its performance while staying cool. Smart Fan 5 allows users to interchange their fan headers to reflect different thermal sensors at different locations on the motherboard. Not only that, with Smart Fan 5 more hybrid fan headers that support both PWM and Voltage mode fans have been introduced to make the motherboard more liquid cooling friendly.
Fan / Water Pump Connectors
Internal Temperature Sensors
Different models have different number of fan pin headers and temperature sensors. Smart Fan 5 function may vary by model.
Temperature Sensors
Hybrid Fan Headers
■ 4 Fan / Water Pump Connectors
■ 6 Temperature Sensors
■ All Fan Pin Headers Upgraded to Hybrid Fan Headers
■ Interoperable Fans and Sensors
■ Intuitive UI for Fan Control
FAN STOP
Hybrid FAN Header
Smart Fan 5 Software
Achieve fan silence. With Fan Stop, map any fan to stop completely when temperatures drop below a specified threshold. Which fan stops, based on readings from which sensor, and at what temperature—all of it can be customized to your liking.
Intelligent Fan Control Design
LIGHTING
RGB FUSION 2.0
RGB Fusion 2.0 offers users the option to control onboard RGB and external RGB / Addressable LED light strips for their PC. With external Addressable LED strips*, where each LED is digitally addressable, users can experience even more patterns, styles, and illuminations.
GIGABYTE Motherboards support 5v Addressable LED lighting strips and up to 300 LED lights. RGB Fusion 2.0 with Addressable LEDs comes with new patterns and various speed settings with more to come.
With full RGB support and a redesigned RGB Fusion 2.0 application, the user has complete control over the LEDs which surround the motherboard.
RGB Fusion 2.0 Ready
RGB Fusion 2.0 Software
RGB Fusion APP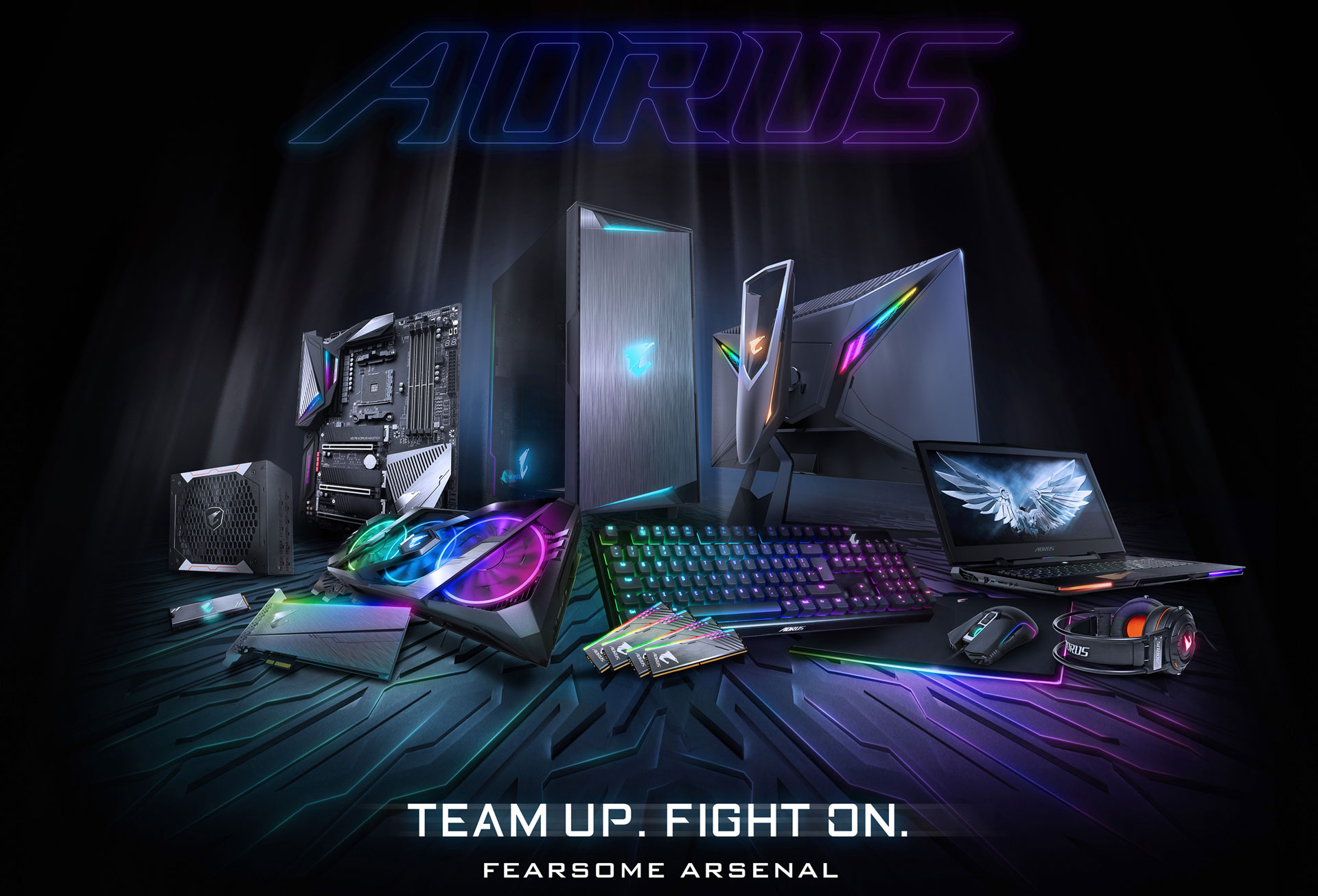 With a dazzling array of products supported, RGB Fusion 2.0 is the software that brings it all together, letting your accessories synchronize to the same beat. Customize all your LEDs how you like — have them match, dazzle and impress. 
Learn more about RGB Fusion 2.0
AUDIO
High-End Audio Capacitors
GIGABYTE motherboards use high-end audio capacitors. These high quality capacitors help deliver high resolution and high fidelity audio to provide the most realistic sound effects for gamers.
Audio Noise Guard
GIGABYTE motherboards feature an audio noise guard that essentially separates the board's sensitive analog audio components from potential noise pollution at the PCB level.
ULTRA DURABLE
Q-Flash Plus
Update the BIOS easily without installing the CPU, memory and graphics card.
With GIGABYTE Q-Flash Plus, you don't need to install the CPU, memory and graphics card nor enter the BIOS menu to flash the BIOS. Just download and save a new BIOS file (rename to gigabyte.bin) on the USB flash drive, then press the dedicated Q-Flash Plus button and you're good to go!
Solid Pin Power Connectors
GIGABYTE X570 motherboards feature solid plated ATX 24pin & ATX 12V 8pin power connectors to offer a stable power supply during CPU overloading.
Solid Pin Power connector advantages
Larger contact area for electricity
More metal quantity to sustain higher power and generated heat
Ultra durable and longer lifespan
Ultra Durable™ PCIe Armor
Industry Leading Ultra Durable™ PCIe Armor
The innovative one piece stainless steel shielding design from GIGABYTE reinforces the PCIe connectors to provide the extra strength required to support heavy graphics cards.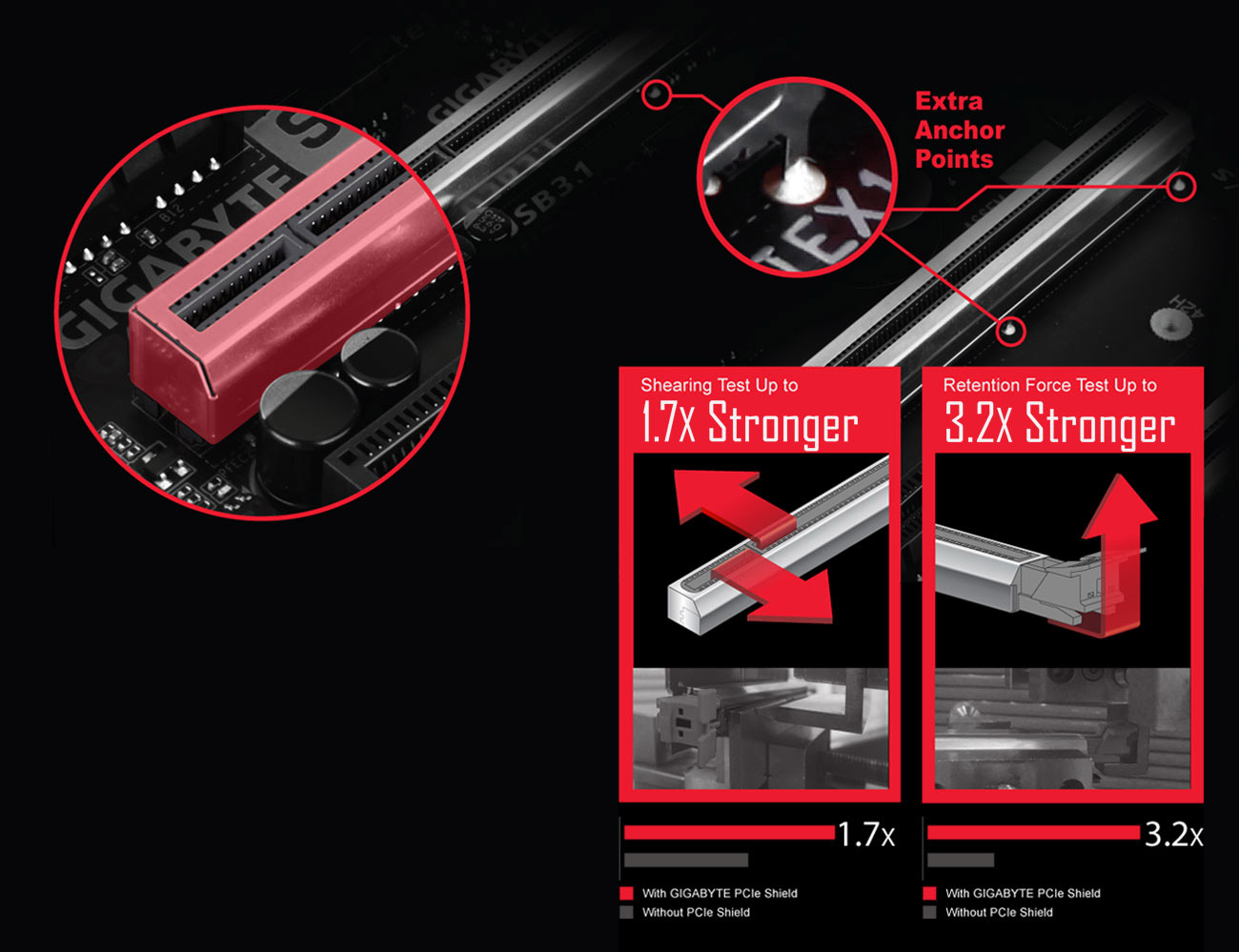 GIGABYTE Patented Double Locking Bracket
Learn more about ULTRA DURABLE
GIGABYTE EXCELLENCE
GIGABYTE BIOS & Applications
BIOS
APP CENTER
EasyTune
@BIOS
System Information Viewer
BIOS
New User Interface
All new EASY MODE shows important hardware information in one page including CPU clock, Memory, Storage, Fan.
My Favorites
Add constantly used items into the favorite menu for quick access.
Storage Information
Show all kinds of storage information including SATA, PCIE and M.2 interface.
Changelog
List all changes before saving and exiting bios. Quickly review overall settings modification.
Intuitive Load Line Curve
Clearly show each loadline calibration setting in an intuitive curve graph.
מידע נוסף
דגם

(X570 GAMING X (rev. 1.0

תמיכה במעבדים

AMD Socket AM4, support for: 3rd Generation AMD Ryzen™ processors/ 2nd Generation AMD Ryzen™ processors/ 2nd Generation AMD Ryzen™ with Radeon™ Vega Graphics processors/ AMD Ryzen™ with Radeon™ Vega Graphics processors
(Please refer "CPU Support List" for more information.)

זיכרון

4 חריצי זיכרון

3rd Generation AMD Ryzen™ processors:
Support for DDR4 4000(O.C.) / 3866(O.C.) / 3800(O.C.) / 3733(O.C.) / 3600(O.C.) / 3466(O.C.) / 3400(O.C.) / 3333(O.C.) / 3300(O.C.) / 3200 / 2933 / 2667 / 2400 / 2133 MHz memory modules
2nd Generation AMD Ryzen™ processors/AMD Ryzen™ with Radeon™ Vega Graphics processors:
Support for DDR4 3200(O.C.) / 2933 / 2667 / 2400 / 2133 MHz memory modules
4 x DDR4 DIMM sockets supporting up to 128 GB (32 GB single DIMM capacity) of system memory
Dual channel memory architecture
Support for ECC Un-buffered DIMM 1Rx8/2Rx8 memory modules
Support for non-ECC Un-buffered DIMM 1Rx8/2Rx8/1Rx16 memory modules
Support for Extreme Memory Profile (XMP) memory modules
(Please refer "Memory Support List" for more information.)

כרטיס רשת

Realtek® GbE LAN chip (10/100/1000 Mbit)

כרטיס קול

Realtek® ALC887 codec
High Definition Audio
2/4/5.1-channel

USB

Integrated in the CPU:
4 x USB 3.2 Gen 1 ports on the back panel
Chipset:
4 x USB 3.2 Gen 1 ports available through the internal USB headers
6 x USB 2.0/1.1 ports (2 ports on the back panel, 4 ports available through the internal USB headers)

חריצי הרחבה

Integrated in the CPU (PCIEX16):
· 3rd Generation AMD Ryzen™ processors:
1 x PCI Express x16 slot, supporting PCIe 4.0 and running at x16
· 2nd Generation AMD Ryzen™ processors:
1 x PCI Express x16 slot, supporting PCIe 3.0 and running at x16
* For optimum performance, if only one PCI Express graphics card is to be installed, be sure to install it in the PCIEX16 slot.
· 2nd Generation AMD Ryzen™ with Radeon™ Vega Graphics processors/AMD Ryzen™ with Radeon™ Vega Graphics processors:
1 x PCI Express x16 slot, supporting PCIe 3.0 and running at x8 Integrated in the Chipset (PCIEX4/PCIEX1)
1 x PCI Express x16 slot, supporting PCIe 4.0*/3.0 and running at x4 (PCIEX4)
* For 3rd Generation AMD Ryzen™ processors only.
3 x PCI Express x1 slots, supporting PCIe 4.0*/3.0
* For 3rd Generation AMD Ryzen™ processors only.

איחסון

Integrated in the CPU (M2A_SOCKET):
· 3rd Generation AMD Ryzen™ processors:
1 x M.2 connector (Socket 3, M key, type 2242/2260/2280/22110 SATA and PCIe 4.0 x4/x2 SSD support)
· 2nd Generation AMD Ryzen™ processors/2nd Generation AMD Ryzen™ with Radeon™ Vega Graphics processors/AMD Ryzen™ with Radeon™ Vega Graphics processors:
1 x M.2 connector (Socket 3, M key, type 2242/2260/2280/22110 SATA and PCIe 3.0 x4/x2 SSD support)
Integrated in the Chipset (M2B_SOCKET):
1 x M.2 connector (Socket 3, M key, type 2242/2260/2280/22110 SATA and PCIe 4.0*/3.0 x4/x2 SSD support)
* For 3rd Generation AMD Ryzen™ processors only.
6 x SATA 6Gb/s connectors
Support for RAID 0, RAID 1, and RAID 10

חיבורים

1 x 24-pin ATX main power connector
1 x 8-pin ATX 12V power connector
1 x CPU fan header
1 x water cooling CPU fan header
2 x system fan headers
1 x CPU cooler LED strip/RGB LED strip header
2 x addressable LED strip headers
2 x RGB LED strip headers
6 x SATA 6Gb/s connectors
2 x M.2 Socket 3 connectors
1 x front panel header
1 x front panel audio header
2 x USB 3.2 Gen 1 headers
2 x USB 2.0/1.1 headers
1 x Trusted Platform Module (TPM) header (2×6 pin, for the GC-TPM2.0_S module only)
1 x Clear CMOS jumper
1 x Q-Flash Plus button

פאנל אחורי

1 x PS/2 keyboard port
1 x PS/2 mouse port
1 x HDMI port
4 x USB 3.2 Gen 1 ports
2 x USB 2.0/1.1 ports
1 x RJ-45 port
3 x audio jacks

חיבורי מסך
יצרן
סוג
ערכת שבבים
תושבת
קישור לאתר יצרן

https://www.gigabyte.com/Motherboard/X570-GAMING-X-rev-10/sp#sp